- -
1 DAY movie
(
http://www.udm4.com/forum/showthread.php?t=6909
)
| | |
| --- | --- |
| leafydull | 09-22-2009 06:25 AM |
---
1 DAY movie

Flash (Duffus) wake up to a phone from Angel (Watson) announcing that his being released from the prison and wants the €500K he'd left with Flash for safekeeping. Short of the full amount and pushed for time, Flash is forced to strike a deal with evil (Duncan) who more than lives up to his name. 1 Day follows Flash's race against the clock as he's pursued by a rival gang, the police, his three irate and babymothers and his granny.
http://www.1daythemovie.co.uk/1day.html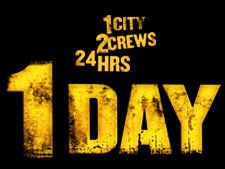 All times are GMT. The time now is

04:18 PM

.
Powered by vBulletin® Version 3.0.1
Copyright ©2000 - 2022, Jelsoft Enterprises Ltd.